Asterisk has been around for a number of years now, most tech consultants will be aware that there are open source PBX solutions that can run on your PC. However, until I discovered the Atcom IP series of Asterisk appliances, I knew I would have a hard time convincing small businesses of the benefits of VoIP.
There is a strange sense of security that goes with having a dedicated appliance for something as critical as telephony. Businesses that are used to having a phone system on the wall somewhere may not be totally comfortable having a phone system running on any old PC sitting in the server room (although this could be a safer option, as you always can drop the hard drive into another machine if something goes wrong with one).
While there have been Asterisk appliances from major names like Digium, their cost is not much cheaper than a POTS system, making migrating from a traditional phone system hard to justify. The Atcom IPxx series on the other hand which you can get the base unit for under $500, depending on how many analogue trunks and extensions you want.
I should note that it is not a trivial cost associated with moving to VoIP – if you have existing analogue phones the cheapest way will be to use ATA devices such as the Linksys SPA8000. VoIP phones start at around the $200 which soon adds up.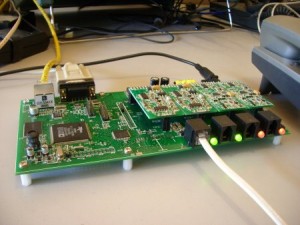 The ATCOM looks fairly easy to set up. There will be a learning curve, but it is definitely within the scope of in house IT staff to create new extensions, reconfigure IVR menus, if not set up the whole system from scratch.
For the price, I would buy two, and keep one as a spare that I could drop the flash card into should anything happen to the other.
The Atcom IP01 / IP04 / IP08 can handle around 30 concurrent calls, which is plenty for any small to medium business in New Zealand.
My immediate reaction when I saw this was to buy it just because it was so unbelievably cheap. Unfortunately, being a student means that isn't quite a good enough reason to buy one.
Update: July 2009
I still haven't tried out any of the ATCOM gear. I have to say I am nervous about the quality, I'd love to think it would be excellent, but until I have tested it I won't know. In New Zealand of course you are probably still going to want analogue trunks instead of relying on 2talk/SIP trunks unless you have a really nice internet connection.