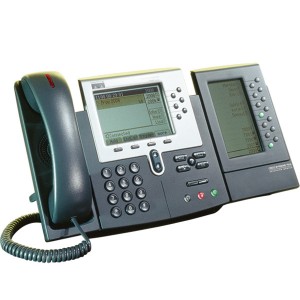 So you've got your shiny new 7914 sidecar, configured all the buttons, go to boot it up and find that all the buttons just light up red!
I've seen many forum posts with people confused about how to get their 7914 working, and I have also had problems, so here is a guide on how to do it.
First, check you have the 7914 phone load installed on your UC device.
Have a copy of the latest software for your UC520/UC540 etc, something like UC520-8.0.2.zip, about 100Mb.
Open up Cisco Configuration Assistant, open the Maintenance tab and choose Phone Load Management.
If 7914 isn't showing in the 'Delete Phone Loads' tab, this means we are onto a solution here, exciting! If it is already in this list, skip to the next section.
On the 

Upload Phone Loads

page, select the UC520-8.0.2.zip (or similar) file as the Software Pack. Grab a cup of coffee while it searches the archive for phone loads.
Once that is done, find 7914 in the list and check the checkbox next to it. Good time to check if there are any other phones in the list you could add.
Hit Upload.
Next, configure the phone in the Voice tab
I'm sure you have probably already done this section. If you haven't:
In CCA, open Configure > Telephony > Voice > User Extensions.
Select the phone with the 7914 attached, and change the phone type. For example I have a 7961 phone. From the phone type dropdown box, choose '7961/14'. If you have two 7914s, choose 7961/14×2 – you get the idea.
Configure the buttons as normal in the details section.
Save the configuration and restart the phone
Hope this guide has been helpful and saved some worry about having a faulty 7914…
For others of you who can't afford a 7914, I've just recently discovered the Cisco 7931 – awesomely priced phone with lots of buttons!