We finally got our new Epson EB-4650 (unsure on exact model) projector connected to the network this week, allowing me to complete our Roomie Remote setup: controlling a projector, Marantz receiver, DVD and Freeview box.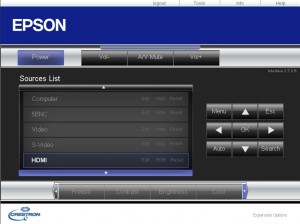 Although Roomie Remote had a one-size-fits-all Epson projector definition, I couldn't get it working with IP control.
Knowing the projector supports PJ-Link, I set out to see how easy it would be to implement the well documented PJ-Link protocol in Roomie.
Without further ado:
Back up your Roomie settings to Dropbox
Download plistEditor Pro (it is either trialware or shareware)
Open the Dropbox\Roomie\RoomieCodes.plist file. If it doesn't exist, create one
Add in the code below. We only need to switch between LAN and HDMI1, so I haven't tested the other inputs, but feel free to tweak the Gist below.
Save, restore the settings from Dropbox into Roomie
Create a new device, entering the projector IP and PJ-link port 4352, select 'Generic' – 'PJ-Link Compatible'

I'm not sure why PJ-Link isn't included in Roomie, but until it is this should let you control a decent number of auditorium/installation projectors over IP.
We can now leave our four remotes in the drawer where they belong, instead able to use one touch actions to power up the devices and choose the right inputs – all from an iPod touch or iPad.
P.S. This will only work for projectors not requiring PJLink authentication, I didn't look into seeing how to do that.